विदाई पत्र : ले यूछंग : एक महान चीनी राजदूत, एक असामान्य व्यक्ति और भारत के सभी लोगों की एक बहुत प्यारा दोस्त - हमारे श्रोता दोस्त रविशंकर बसु
2016-04-12 09:56:54 cri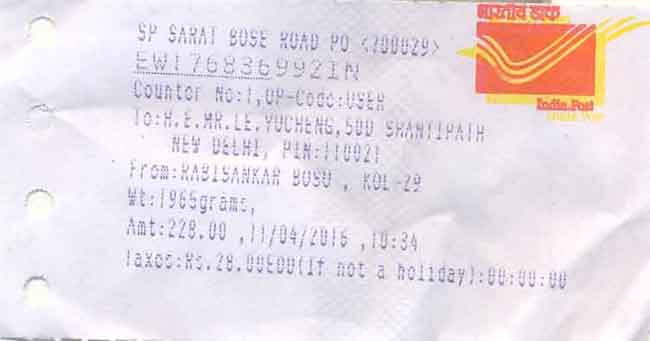 बसु जी आगे लिखते हैं कि मैंने आज 11 अप्रैल, 2016 को स्पीड पोस्ट के माध्यम से नई दिल्ली स्थित चीनी दूतावास में चीनी राजदूत महामहिम ले यूछंग को हमारी आभार व्यक्त करने के लिए एक 'विदाई' पत्र और एक एक photo-collage भेजा है।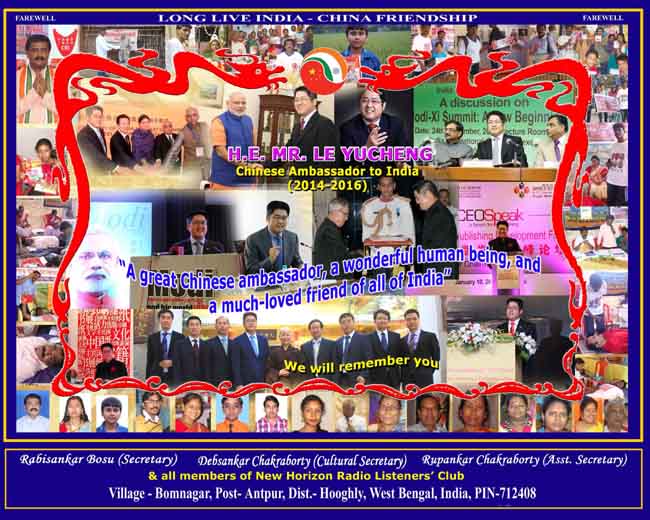 ________________________________________
To
His Excellency MR. LE YUCHENG
Chinese Ambassador to India
50-D, Shantipath,
Chanakyapuri,
New Delhi-110021, India
"A great Chinese ambassador, a wonderful human being, and a much-loved friend of all of India"
Respected Sir,
Namaskar and Warmest greetings!
I am a common man of India living in the village, Bomnagar, a microscopic dot in the map of West Bengal, India. I have never met you but I received your personal blessing through your letter dated 11th January, 2016 addressed to me and also through the invitation by Mr. Ma Zhanwu, Hon'ble Chinese Consul General in Kolkata inviting me and my radio club members to join him for a traditional Chinese dinner in the evening of 13th January, 2016 in acknowledging my long devotion and attachment to China Radio International(CRI) and valuing our campaign for China Radio International as well as our role for promoting India-China friendship to the common people in our part of the globe over the past 30 years. I wish to take this opportunity to extend my heartfelt thanks and gratitude to you.
The CRI-Hindi news makes me sad that after the completion of your term in India representing your great country here for 2 years, you are returning to China by leaving a good imprint on us which would be in my mind forever. I never imagined that you are going so soon when I heard first time the news on CRI Hindi Service on 3rd April, 2016 however later I knew that it is true. Sir, you cannot believe that how the painful moment was for me when I heard this news. I have been dreaming that one day I will be able to meet you in person but you are returning to China leaving my dream unfulfilled.
Sir, during your tenure in India, your valuable contributions in enhancing the friendship between the two nations- India and China on grass root level is not hidden to all of us. During your two-year tenure in India, Chinese President Xi Jinping made a state visit to New Delhi in September 2014 and Prime Minister Narendra Modi visited Beijing in May last year. We have seen that you have worked hard for the need for a renewal of China-India ties in tune with the realities of the 21st century. You have created new avenues for cooperation between India and China, especially in the fields of trade and investment in India on the basis of mutual respect for each other, and in the interest of both countries. I have seen on your website that you have met with many ministers and other important members of our government and visited many Indian cities. I am really moved that as a Chinese Ambassador to India, you have emphasized on people-to-people exchanges. In a word, during your term, you have reinforced the bridges between our two countries.
As a dedicated listener of CRI I always visit the website of China Embassy in Delhi and Consulate General of China in Kolkata. I have been deeply impressed after going through your valuable speeches and remarks on your website like "New Dynamism in China-India relations", "A Super Visit to China", "Speech at the Opening Ceremony of the 24th New Delhi World Book Fair", "Remarks by Ambassador Le Yucheng At the Launch of "Modi--Rise of a New Star", "Remarks on the New Year Reception", "Remarks on the First Anniversary of New Kailash Manasarovar Yatra Route via Nathula Pass", to mention a few. You have truly promoted China-India relations to a new level through your sincere efforts and works.
Regarding the importance of India –China friendship on grass root level, I quote a few lines from Chinese President Xi Jinping's speech (which he delivered on 18th September, 2014 during his a 3-day visit to India): "China and India have a combined population of over 2.5 billion. If we speak with one voice, the whole world will listen; and if we join hands, the whole world will pay attention". Our Prime Minister Narendra Modi has been ramping up China-India economic ties since assuming office in May 2014. I personally believe in recent years, the friendship relations between China and India are progressing nearly in all fields, particularly, Chinese President Xi Jinping's visit to India and Prime Minister Narendra Modi's visit to China have raised India –China ties to a new height. It is my view that India and China should jointly work for the well-being of our two peoples through friendly consultations with a constructive and cooperative approach.
After receiving your letter dated 11th January, 2016 I have been cherishing this dream to meet you in person but as I am unemployed man, I am not in a position to meet you in person in New Delhi before your departure due to my financial hardship. As such I am sending this letter with this photo-collage on fiberglass as a small token of our sincere gratitude to you. We, the members of our New Horizon Radio Listeners' Club, shall be very happy if you carry this small token with you while returning to your homeland, China.
In concluding, I firmly believe that someday and somewhere in China I will meet you with my family and our radio club associates. We promise you that we will remember you as a great Chinese ambassador, a wonderful human being, and a much-loved friend of all of India.
Our very best wishes are always with you, and for all those who have dear and near to you.
With my best regards,
Sincerely yours,
Rabi Sankar Bosu
Secretary
New Horizon Radio Listeners' Club
West Bengal, India
1 2