हमारे श्रोता रविशंकर बसु का चीन में अनुभव
2016-07-15 20:36:28 cri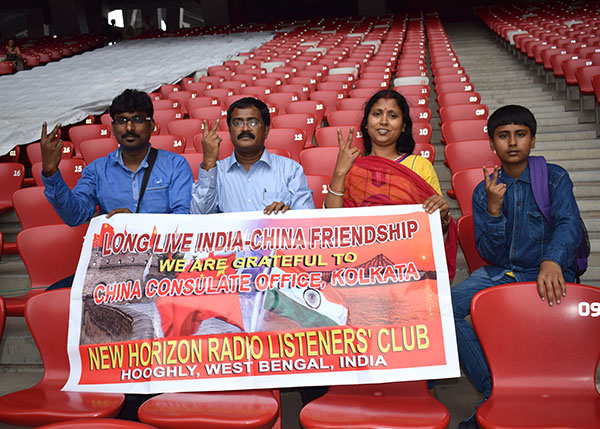 My Real-Life Experience in China, a land of Happiness
Rabi Sankar Bosu
This is not a fairy tale, it is a true story of a long cherished dream being fulfilled by an unemployed man living in a small village in West Bengal, India. Yes, this is my seven days real life experience in China which I will never forget. I along with my wife, Sudeshna, my son Udit Sankar and my radio club members Deb Sankar Chakraborty and Rupankar Chakraborty had the opportunity to pay a 7-day visit to China, a land of happiness, from 26th June to 2nd July, 2016 at the invitation of the Foreign Affairs Department of China. I have been a longtime listener and a devoted fan of China Radio International (CRI); I have been promoting India- China friendship for over 31 years and with the help of my radio club members I have been helping CRI to reach the remotest rural people in West Bengal, India. Our efforts have been noticed and praised by the former Chinese Ambassador to India Mr. Le Yucheng and the Kolkata Consul General Mr. Ma Zhanwu. Impressed by our love and work for China and CRI, Consul General Ma sponsored us to take a free trip to China. We are grateful to him for giving us a chance to enjoy our trip on the soil of China like an emperor and his court.
China is a beautiful and big country, we were only able to spend seven days in China. It is impossible to write a conclusive writing or opinion with the help of such brief visit in China. However on the basis of our observations and brief understanding of our travel in China I am sharing my experiences with everyone. As part of our trip to China, we first visited Kunming, capital of southwest China's Yunnan Province. Kunming, with a history of more than 2,400 years, owes its importance to the fact that it was the gateway to the celebrated Silk Road that facilitated trade with India. Kunming enjoys a pleasant climate and does its best to live up to its title of "the Spring City of China ". On June 26th we visited the beautiful Shilin Stone Forest by a car which is 78-80 kilometers from the Kunming Jinjiang Hotel where we stayed for two days. An old Chinese saying says that 'If you have visited Kunming without seeing the Stone Forest, you have wasted your time.' Truly, the site is one of the most important attractions of Kunming. The more we entered the forest, the more we were all amazed to see the beautiful limestone landscape which has an area of 12 square kilometers. The stone pillars in the park all have different shapes. Some resemble swords and knives, some look like eagles or elephants. Our tour guide Mr. Lin told us that Shilin means a forest of stones in Chinese. Nearly 2.7 million years ago Shilin was under the ocean, and today it's a forest of stones. These stone formations are actually fossils from coral from millions of years ago. Crevices and holes in the rock are really awesome. Unfortunately the sun was too harsh, exhausting us and limiting us from enjoying all the scenes. The Stone Forest Scenic Zone was listed as a World Natural Reserve by the United Nations in 2007. Shilin Stone Forest is really a beautiful art of nature. While returning we sated pleasantly traditional Chinese delicacies in a farmer's restaurant outside of the Stone Forest.
The next day on June 27th we went to the Western Hills Forest Park (Xishan). There is a saying - 'If you do not visit Western Hills, you haven't visited Kunming; if you do not come to Dragon Gate, you haven't been to the Western Hills.' The nature is quite beautiful in this area. Really we got lost in the tranquility and marvelous scenery of the Western Hills lying beside Dianchi Lake. Standing at Lingxu Pavilion on the Western Hills, we enjoyed spectacular panoramic views of Dianchi Lake and Kunming City. We headed through wooded mountain paths to the Dragon Gate or Longmen in Chinese. The winding stone stairs are very narrow to move on together. Our tour guide informed us that it took 72 years for Taoist monks to cut this path into the mountain. Taoist God Kui Xing, a learning God, is popular among Chinese students. Guan Yim is a baby God. I heard a Chinese folk story about a fish jumping the "dragon gate" bringing luck and wealth to the local people. According to legend, Chinese parents rub a small round part of the gate's archway in order to get baby. We felt great to see the Dragon Gate (Longmen) Grottoes on the cliff of Hills. I wondered how three Taoist monks built the Taoist temple up on top of the hill nearly 3 hundred years ago. The Western Hills Forest Park is very sweet "to one who has been long in city pent" and about to temporarily move to the countryside for peace and fresh air. Spending three and a half hours watching the magnificent beauty of the hills I thought "that day so soon has glided by like the passage of an angel's tear." While returning my eyes still lingered to the receding Western Hills.
We reached the Chinese Capital Beijing close to dawn on June 28th. The heavy rains welcomed us. We stayed at the Jinglun Hotel in a very central location. The rooms were nice and clean and 5-star standard. In Beijing we had the opportunity to visit Qianmen Street, the Summer Palace, the Bird's Nest Stadium, the Water Cube, Tiananmen Square, the Forbidden City, the Mutianyu section of the Great Wall, the Temple of Heaven, the Ming Tombs and the Capital Museum of China. Beijing is the city that has the most amount of World Heritage sites. The Chinese Capital with a history of over 3,000 years has also wholeheartedly embraced modernization.
On our very first day after taking a nice breakfast we strolled on the Qianmen Street and bought some Chinese souvenirs for our family and radio club members. I enjoyed the bargaining with shopkeepers in English. But it is rather difficult to converse with Chinese vendors in English as most of them cannot speak English properly. Everything in Beijing is in Chinese. It appears to me English hasn't become a necessity to communicate within China. But Chinese people are very honest and friendly. One Chinese film director named Mr. Shao Yafeng filmed the whole of our journey in Beijing with his associate Mr. Wei Cheng Hua. When Mr. Shao Yafeng realized that I am an unemployed poor person, he never gave me chance to buy cigarettes for myself. He always shared his cigarettes with me. Seeing his love for cigarettes my wife humorously told me that two smokers finally met each other on the soil of China! These two persons made our China trip enjoyable and memorable through their polite and jocund company.
In the afternoon of June 28th one lady named Ms. Wen Hui from China's Foreign Affairs Bureau took us to the building of China Radio International (CRI).It is this China Radio International that has become a part and parcel in my life for the last 31 years. It is China Radio International that has made China my second home. We were too much elated to see the faces of CRI presenters whose voice we hear on air or see them on CRI website. Then came the most memorable moment of my life; I had an exclusive meeting with CRI Deputy Editor-in-Chief Mr. Ma Bohui in presence of CRI's Hindi Language Department Director Mrs. Yang Yifeng, CRI's Bengali Language Department Deputy Director Mrs. Cao Yan Hua(Suborna), Madam Zhao Qiao Executive Director of Urdu service, Deputy Director of South Asia division of CRI and so many other CRI Dignitaries(pardon me as I forgot to write down their names). Tears rained down my cheeks when Mr. Ma Bohui called me as a true friend of CRI and China. He was deeply moved on seeing my love for CRI and China. He listened to my personal story with CRI. He said, "I am very much impressed to see your love and work for China Radio International and China. I appreciate you for all what you have done for the cause of China-India friendship. I cordially wish you and your club could influence more locals and play a pivotal role in bridging China-India friendship." In a cordial atmosphere he discussed with me about the spreading of CRI broadcasting to the grassroots level in India. He conveyed his greetings to the other members of our radio club. I never thought that an ordinary person like me would get the chance of meeting with such a high profile CRI official like him. It's really a memorable moment of my life that I enjoyed and I shall ever remember this meeting as one of the happiest moments of my life.
Then we went to CRI English Department. Mr. Li Zheng, Senior Editor & Liaison Person, CRI English Service and Mr. Liang Tao, Deputy Editor-in-Chief of CRI English Service greeted us, and Mr. Tao showed us the whole section of CRI English with a jolly mood. He is really one of the most amazing men I have ever met. I also met there the ever smiling Ms. Jessica Davis, Web & Social Media Editor, CRI English. My wife Sudeshna commented me that Jessica looks like an angel. My friend Debsankar took so many photos with this American reporter from Chicago. Her debonair appearance impressed me most.
Then we entered CRI Hindi Language Department which stands for heartbeat of my life, which is just like three meals a day to me. We were so happy to meet all the presenters of CRI Hindi Service. Mrs. Yang Yifeng,Mrs. Tang Yuangui (Sapna) Mrs. Bi Wei(Chandrima),Mr. Anil Pandey,Mr. Akhil Parashar all greeted us with the warmth from their hearts. Mrs. Tang Yuangui greeted my son Udit Sankar with a big hug when she saw him. My son felt comfortable in the motherly company of Mrs. Tang Yuangui. Mrs. Yang Yifeng and all the staff of CRI Hindi Service minutely scrutinized our club's brochure and appreciated our long devotion and attachment to China Radio International, in particular, our blood donation campaigns for CRI. Mrs. Yang Yifeng appreciated me by saying:"We appreciate your love for the Chinese culture and for continuing effort at the improvement of China-India friendship. Your long time support and the meaningful work you have done over the years have helped make our work and our services better." My friend Deb Sankar presented a curved drawing of poet Rabindranath Tagore which earned appreciation of CRI. My friends, Deb Sankar and Rupankar felt excited when Mr. Anil Pandey,CRI Hindi Expert & Reporter, took our interviews in CRI Hindi Studio. My wife Sudeshna got nervous at the time of interview as it was her first interview with CRI. We presented our souvenirs and gifts to CRI members. We took so many photos with CRI leaders and presenters. At the time of our departure most of CRI Hindi presenters came down to see us off on road; tears filled my eyes when Mr. Akhil Parashar embraced me warmly saying in Bengali that "Dada Bhalo Thakben"(elder brother, stay well…take care of yourself).
On June 29th, we visited the Summer Palace, one of the finest examples of garden architecture in China. The Summer Palace is an enormous complex surrounded by the massive Kunming Lake. Situated in the northwest suburbs of Beijing, the Summer Palace, founded by Emperor Quainlong, was a favored retreat for the Imperial family during the hot summers since the mid-18th century. More than 100 examples of traditional architecture are to be found in the park, including pavilions, terraces, temples, pagodas, waterside gazebos, covered corridors, stone bridges and the famous marble boat. The Kunming Lake was extended to imitate the famous West Lake in Hangzhou. Covering an expanse of 3 square kilometers, the Summer Palace is mainly made up of the Longevity Hill and the Kunming Lake. The central Kunming Lake covers about three quarters of the Summer Palace grounds. Kunming Lake represents the traditional Chinese garden element of the "fairy hill within the sea". The 150-meter-long the Seventeen-Arch marble bridge on Kunming Lake is one of the pretty sights in the sprawling Summer Palace complex. We took an enchanting boat ride on the Kunming Lake. In 1998, UNESCO included the Summer Palace on its World Heritage List. We were all impressed by the Seventeen-Arch Bridge, the Marble Boat and valuable historical relics and antiques of the magnificent Summer Palace. Our tour guide Mrs. Jane Shining told us lots of stories regarding Summer Palace which made the tour even more enjoyable. It takes a full day to enjoy the magnificent beauties of the Summer Palace but we spent only half a day there.
In the afternoon we reached our next stop the Bird's Nest stadium and Water Cube. Coming through the entrance, we got our bags checked and a body scan. After seeing this great building on TV during the Olympic Games in 2008 I have always wanted to go and visit the Bird's Nest. It is bigger than I had imagined. When I saw pictures on TV, I didn't think it was so big. We climbed to the fifth floor to get a panoramic view of the stadium. It was only by standing up there that we really felt how big the stadium is. My son Udit Sankar with my friend Rupankar enjoyed running in the gallery chairs. After the Bird's Nest, we walked through the next door to the Water Cube, the Beijing National Aquatics Centre. One part of the swimming pool has turned into a popular water park, where swimmers could shoot down colorful tubes into the pools of water. It's a great place to spend some time with my family and friends.
Later we headed to the Temple of Heaven, another UNESCO Heritage site in 1998 in southeastern Beijing. The Temple of Heaven is a complex park filled with beautiful buildings set among gardens and surrounded by centuries-old pinewoods. The Temple of Heaven was built between 1406 and 1420 during the reign of the Yongle Emperor. It is regarded as a Taoist temple. This is where the Chinese emperors of the Ming and Qing dynasties offered prayers for good harvests and also offered sacrifices to heaven for five centuries. Physically, the Temple of Heaven covers 675 acres, twice the size of the Forbidden City. We saw with wonder the circular Mound Altar, octagonal Imperial vault of Heaven and the Echo Wall. The entire complex of the Temple of Heaven is truly beautiful and we had a very nice experience there. We saw that senior citizens spend their time in Tiantan Park doing Tai Chi or other physical exercises. Chinese teenagers go there to dance, to sing and play games and even making love.
On June 30th we visited Tiananmen Square on our way to the Forbidden City. It was here that Chairman Mao Zedong declared the founding of the People's Republic of China on October 1, 1949 and it's also here he's interred in his usual gray suit in a crystal casket. Built in Ming dynasty about 600 years ago, Tiananmen Square is the world's largest city-center square. The square stretches 880 meters from north to south and 500 meters from east to west. The total area is 440,000 square meters. With the towering Monument to the People's Heroes at the center, Tiananmen Square has the magnificent Tiananmen Tower in the north, the solemn Mao Zedong Memorial Hall in the south, the National Museum of China in the east and the Great Hall of the People in the west. The Great Hall of the People is the home of China's parliament. The Five-Star Red Flag flutters high above the mid-point of the square's north side. China held a grand military parade to mark the 70th anniversary of victory over Japan and the end of World War II on September 3, 2015 at Tiananmen Square. We took so many photos against the backdrop of a huge portrait of Mao Zedong.
Then we entered through the Meridian Gate to visit the Palace Museum, popularly called the Forbidden City which is located in the middle of Beijing. It was the Chinese imperial palace from the Ming Dynasty to the end of the Qing Dynasty. Surrounded by a 52-meter-wide entrenchment, a 10-meter-high wall and beautiful gardens, the Forbidden City is a gigantic complex built in 1406 to 1420; the entire complex consists of 980 buildings with 8,707 bays of rooms and covers 7,800,000 sq ft. The architectural design of Meridian Gate is unique. The Forbidden City was declared a World Heritage Site in 1987, and is listed by UNESCO as the largest collection of preserved ancient wooden structures in the world. Standing on the complex of the Forbidden City I realized how much Chinese are associated with their great history and the pride they feel about it. In the imperial Garden I felt calm by the garden's languorous ambience. We took a lot of photos in the Forbidden City too, and this was the first time I took so many photos of myself. I would recommend for anybody who will visit China to go to the Forbidden City to better understand the main residence of 24 emperors during the Ming and Qing dynasties. We had a good time at the Forbidden City.
As a part of our itinerary on 1st July we visited the main wonder of China as well as of the world—the Great Wall. The Great Wall of China is one of the world's great engineering feats and an enduring monument to the strength of an ancient civilization. It is a symbol of China's greatness and the ability of man to achieve. The Great Wall is known to the Chinese as the Long Wall of Ten Thousand Li (Wanli Changcheng) as it stretches more than 20,000 kilometers. With its universal value, the Great Wall was designated a UNESCO World Heritage site in 1987, and voted one of the Seven Wonders of the World in 2007.
The Mutianyu Great Wall is about 45 miles to the north of central Beijing. The Mutianyu Great Wall is well known for its beautiful architecture and forested landscape. This part of the Great Wall was first built by the Northern Qi Dynasty in (550–577) over 1,400 years ago. It was rebuilt and strengthened under the supervision of famous General Xu Da during the Ming Dynasty around 700 years ago. The Mutianyu Great Wall was renovated in 1983 and the Chinese government designated it as one of the 16 most scenic spots in China in 1987.The main section stretches for 2.5 kilometers. There are 23 watchtowers distributed at close intervals along the wall. We found the walk on the Great Wall tiring but exciting. Just like a gigantic dragon, the Mutianyu Great Wall winds up and down across mountains. When we were going to the top of the Great Wall bycable car, I was really afraid of heights. But after arriving on the wall, I felt pretty good. Climbing upon the Great Wall my son and wife told me it's like a dream come true. It's really something amazing and unbelievable. On the Great Wall I and my friends Debsankar and Rupankar were so excited that couldn't help but dance. My son and my friends climbed bravely to a few watchtowers. As my muscles protested, I enjoyed the wonderful landscape from the Great Wall. We came down from the Great Wall by bobsledding. Toboggan ride was opened in 1998,its total length is 1,580 meters and it looks like a snake. It's very beautiful and enjoyable. Not only my son but we also enjoyed the Toboggan ride down. My visit to the Great Wall of China was one of the greatest adventures of my life and will remain as an unforgettable experience of my life.
After having a delicious lunch in a Chinese restaurant, we visited to the Ming tombs, known as the Thirteen Tombs of the Ming Dynasty in the afternoon. The tombs of the Ming Emperors are situated near the Tianshou Mountains, some 50 kilometers northwest of Beijing. It is well worth making the trek out to view the necropolis of some of China's great rulers of the past — monarchs who ruled from 1368 through to 1644. The 7-kilometer-long Sacred Way leads to the entrance of the Changling, the tomb of Emperor Zhu Di, often referred to as Emperor Yongle. It is also the burial site of Empress Xu,wife of Emperor Zhu Di.
On the last day of our China tour we made a quick visit to the Capital Museum and also Qianmen Street again for shopping before we caught an afternoon flight to Kunming. Beijing's Capital Museum is a five-storey modern building with traditional Chinese decorations. We witnessed so many old Chinese things, cultural treasures, traditional clothes that told us the history of ancient China. I have an interest in Chinese culture and history. Visiting the Capital Museum I felt that time has gone back to the old days of China.
We only spent seven days in Beijing and I knew we only scratched the surface on this city of the great nation of China. During our stay in Beijing we also spent our time wandering the streets of Beijing to see the beauty of Beijing and to understand Beijing people's daily life. Undoubtedly with its ancient palaces, temples and parks the Chinese capital is a very modern, cosmopolitan city. I think everything in Beijing is colossal. Ancient historical buildings and the glitzy skyscrapers stand side by side in Beijing. One of my abiding impressions about being in Beijing was feeling completely safe and comfortable, even though we were such obvious outsiders. I am too much impressed to see the modern facilities in the tourists' spots and clean streets of Beijing. Chinese people do not smoke in restaurants and on public transport. Smokers do not drop cigarette butts on the streets. Though the traffic jam is a usual picture, most Chinese drivers respect the traffic rules. I saw most of the Chinese young girls or ladies enjoy the life with their boyfriends while returning from work. It is widely seen that young couples and lovers have adopted the Western style of kissing openly on the streets, parks and crowded restaurants. It's true that Beijing people are more polite, more courteous in comparison to our state capital Kolkata. The toilets in Beijing are among the cleanest public toilets I've ever seen. We saw lots of Beijingers ride electric bicycles in Beijing's street. My unemployed empty pocket did not allow me to buy an electric bicycle. Even after returning to India still I dream of possessing an electric bicycle. But alas! This is a distant dream to me.
At the end of my writing, there are still left so many untold stories simply because it is impossible to cover all the characteristic and varied life and culture of golden China in writing. Our journey to China ended in the afternoon of July 2nd. When China Eastern Airlines flight took off from Beijing International Airport to India, looking down at Beijing from the blue sky, I murmured I left my heart in China. I should thank Kolkata Chinese Consul General Ma Zhanwu and the whole Consulate Staff for extending all possible facilities to us in China to make our trip happy and enjoyable. Long Live India-China Friendship!

1 2 3 4 5 6 7 8 9 10 11 12 13 14 15 16 17 18 19 20